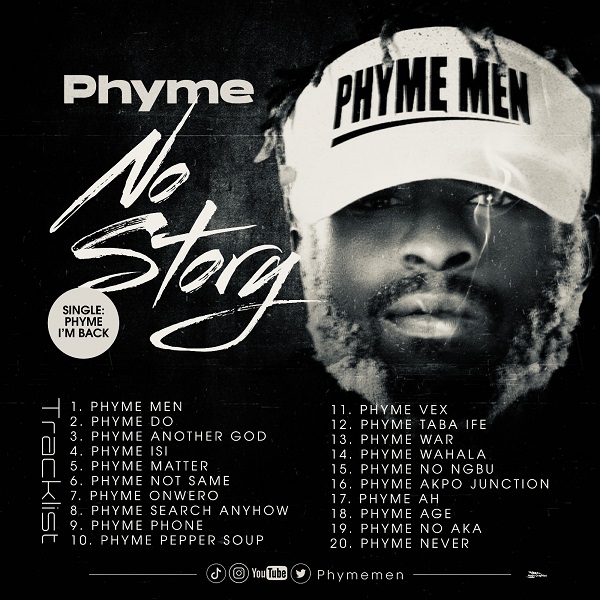 Introducing the talented artist known as Phyme, whose real name is Mbah Christian Amandianaeze.
Phyme is out with a 21-track album entitled 'No Story.' The album features songs that will keep you listening on repeat.
Born on November 17, 1997, Phyme is a Nigerian musician who specializes in rapping, singing, and songwriting. He primarily sings in Igbo and English.
Connect with Phyme on Instagram using the username @Phymemen.
See tracklist below:
1. PHYME – MEN (Stream)
2. PHYME – DO (Stream)
3. PHYME – ANOTHER GOD (Stream)
4. PHYME – ISI (Stream)
5. PHYME – MATTER (Stream)
6. PHYME – NOT SAME (Stream)
7. PHYME – ONWERO (Stream)
8. PHYME – SEARCH ANYHOW (Stream)
9. PHYME – PHONE (Stream)
10. PHYME – PEPPER SOUP (Stream)
11. PHYME – VEX (Stream)
12. PHYME – TABA IFE (Stream)
.13. PHYME – WAR (Stream)
14. PHYME – WAHALA (Stream)
15. PHYME – NO NGBU (Stream)
16. PHYME – AKPO JUNCTION (Stream)
17. PHYME – AH (Stream)
18. PHYME – AGE (Stream)
19. PHYME – NO AKA (Stream)
20. PHYME – NEVER (Stream)
21: PHYME – I'M BACK (Stream)