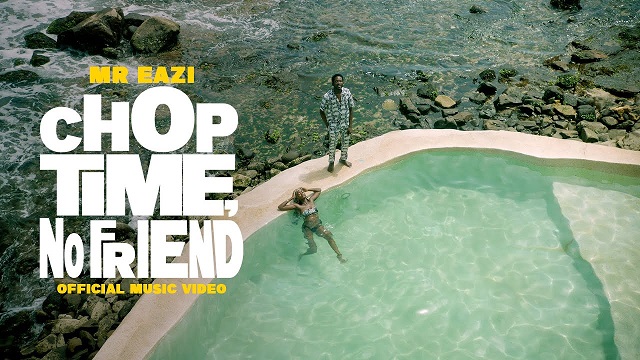 Mr Eazi shares the official video for his latest single, "Chop Time, No Friend," produced by Andre Vibez and KillBeatz.
"Chop Time, No Friend" is a playful return to the Banku Music sound Mr Eazi pioneered and popularized with his early singles and mixtapes.
"Chop Time, No Friend" is a very common Ghanaian saying, something you will see written on the front or side of buses like God is Great," Mr Eazi says.
"It means when you are eating, you don't think about anybody. You are just focused on your enjoyment." For Eazi, it's a way to express how he doesn't let haters distract him from enjoying the fruits of his success.
"It is touching on how people chitchat on me, but I am still focused on my enjoyment," Eazi says. "It is a declaration, a celebration of self. I am saying everything I touch turns to gold. You can't trouble me."
Allison Swank Owen directed the video that shows Mr Eazi living a lavida loca lifestyle.
Quotable Lyrics:
Chop time no friend
If I dey chop my woman I no dey look another man face (kw3)
Chop time no friend
If I dey chop my mulla I no dey look another man face (eh eh)
Anything I touch dey enter
I'm continental
Sentimental
I'm monumental kpere kpere
See anything I touch dey enter
I'm continental
Sentimental
I'm monumental kpere
Zagadat
Watch below:
Check out other songs from Mr Eazi on NaijaVibes;