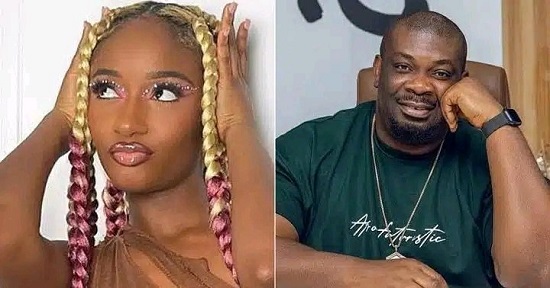 Afrobeats sensation, Ayra Starr, has recounted her first encounter with Mavin Records executive, Don Jazzy.
During her appearance on the latest edition of Teen Vogue Magazine, the 'Sability' crooner described how shy she felt the first time she met Don Jazzy, but he proved to be the coolest person she had ever met.
The Mavin Records signee went on to describe her encounter with the Mavin Boss as the moment that changed her life, and Jazzy could relate with her thoughts.
She said,
"I remember the first time meeting him [Don Jazzy], I was just so shy. I would be in the studio with my brother, and if he leaves the room, we look at each other and scream, 'Oh, my God!' But when I met him, he was the coolest person ever. He just wanted to speak to me, to understand where my mind was. He saw that I wanted it so much,"
On his part, Don Jazzy said he knew he wanted to work with Ayra Starr the moment he saw her singing one of her original songs on Instagram.
"I first saw a video of her [Ayra Starr] singing one of her original songs on Instagram. Her voice was so powerful, yet she looked so young. Immediately, I knew I would like to work with her. I sent her a direct message inviting her to our studio with a guardian," he said.