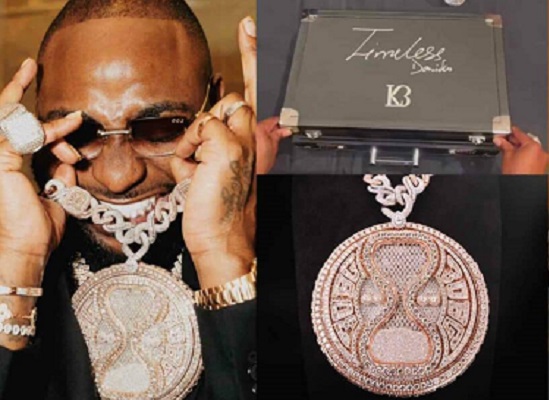 Nigerian megastar, Davido, has unveiled a new necklace to honor the success of his album 'Timeless.'
The piece, a diamond-encrusted necklace with the album's title, was designed by luxury jewelry brand, Local Kettle Brothers Uk Jewelers, and is reportedly worth over 500,000 US Dollars.
The luxury jewelry is a 350 carat diamond pendant, weighing 1.5kg, with a 'Timeless hourglass' design, crafted with meticulous attention to detail and hand selected diamonds.
Davido took to social media to share a video of the necklace, writing, "Turned sand to


." The post quickly went viral, with fans and celebrities alike praising the singer's taste.
Turned sand to 💎⏳ pic.twitter.com/FaNiTGCX80

— Davido (@davido) August 15, 2023
The hit album, 'Timeless,' was released in 2023 and was a commercial success. The album spawned several hit singles, including 'Unavailable,' 'No Competition,' and 'Na Money.' It has also surpassed 1 Billion streams across streaming platforms.