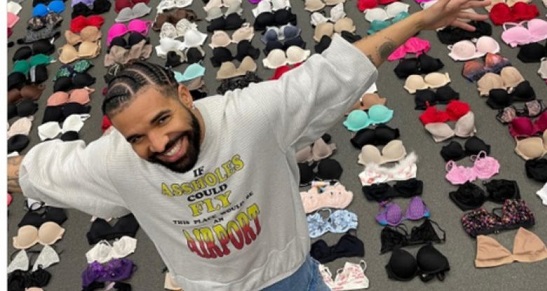 American rapper, Drake, has showed off a collection of bras thrown at him by fans on his 'It's All A Blur' world tour.
Drake might be internationally known for his chart-topping hits, but on his recent tour, the 'It's All A Blur Tour,' he has been drawing attention for an unexpected reason.
The rapper is currently on his 'It's All A Blur' tour, and in a passionate display of affection, concertgoers from all walks of life have been throwing their bras onto the stage.
However, Drake has chosen to celebrate this special expression of fan appreciation by posting pictures of the bras on social media because it has grown to be such a phenomenon. The picture has since received over 5,000 likes in just one hour after being uploaded.
Drake posing with bra collection after having them thrown at him after every night. pic.twitter.com/oLVzolzEAA

— Indian Potato 🍟 (@Reallyronin) September 6, 2023
Meanwhile, Drake's fans have been amused by the gesture, and many have taken to social media to share their own photos and videos of bras being thrown at him. Some fans have even contemplated starting a petition to get Drake to donate the bras to charity.