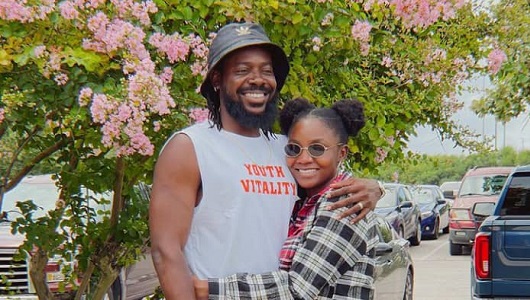 Sensational Nigerian singer, Simi, has revealed how she met her lover and husband,  Adekunle Gold.
In a recent radio interview on Beat 99.9FM, Simisola Bolatito Kosoko, who goes by Simi, disclosed that her husband's initial attempts at getting to know her were unsuccessful.
It turns out he had tried to get her attention by camping in her Facebook messages, which she did not see until several years later.
During this time, she had already released her gospel album, and was making waves within the industry. Unknown to many, she started her musical career as a gospel singer, not as the secular artist she is now.
In a twist of fate, Simi and Adekunle met during a performance that she had around that time and hit it off.
Chuckling as she narrated their humble beginnings, she revealed what he told her when they first met. According to the singer, her now-husband told her, "I'm such a fan."
She added that even after they both got their big breaks, they decided to keep their relationship low-key at the time.
The famous Nigerian singer and songwriter revealed that she and Adekunle dated for five years before getting married.
Even when they tied the knot in 2019 it was very incognito, further backing up the fact that the couple love their privacy. The wedding was said to have taken place at Ilashe private beach, Lagos state.
The couple welcomed their daughter, Adejare, into the world soon after, in 2020. Despite their hilarious origin story, these two have quickly become relationship goals with their cute pictures and playful interactions on social media.