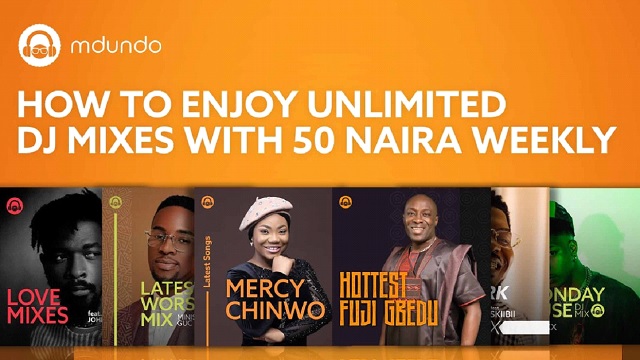 In an era where music and access to it have gotten expensive over time, it is a breath of fresh air to find a website where you can get access to loads of music you love legitimately for a minimal price.
Imagine getting all your music in one mix, isn't that awesome? With Mdundo, you can enjoy unlimited access to different DJ Mixes for so much less.
If you are tired of streaming songs for thousands of naira monthly, Mdundo is here to make it easy for you.
Now, there's an opportunity to Stream and listen to your favorite DJ Mixes straight on your phone with next to nothing.
Subscribe on mdundo.com to enjoy unlimited access to playlists for only N50 per week!
Check below to see how you can enjoy any DJ Mix of your choice with just 50 Naira. Yes, you read that right! 50 naira a week! This means in a month, you're spending just 200 Naira and you can listen to endless mixes and Streams from your device.
We know that you're in a rush to discover how.
Simply:
1: Text MUNW to 13175.
2: You would receive the options as seen below.

3: Select any suitable option and click on SEND.
4: You would receive a confirmation as shown below.

5: To subscribe using the website, simply click on the Stream button of any DJ Mix of your choice which would automatically take you to the subscription page.
Or,
6: Click on HERE which would take you to the page as shown below

This service is completely free of charge aside from your subscription fee.
Easy right?
Exactly! That's what we thought too.